What to Expect
At Shepherd of the Hills, we follow a traditional, historic, liturgical order of service. It is a way for us to connect with the countless Christians who have joined together in worship for centuries. It also connects us to how we rightly understand that worship is primarily about the priceless gifts God delivers to us through worship.
This may be a whole new way of understanding worship for some. A lot of worship is focused on the individual and what they bring to God – what praise and celebration they offer to God. Our worship, however, goes the other way: it's all about God and what He delivers to us: faith, forgiveness of sins, eternal life with Him.
Unlike Anything Else
One of the first things you'll probably think when you worship here is: "This is different than what I'm used to." Good! Christian worship is something that is MUCH different than anything you would see or encounter in your everyday life. It is a time to receive gifts from God: faith, forgiveness, and everlasting life. We sing songs that are different than we're otherwise used to. It is an experience that should be "different."
Most of our worship is comprised of elements from Holy Scripture. We speak God's Word – we sing God's Word – we pray God's Word. It is through His Word that God promises to be present with us and to announce His forgiveness to us. With such awesome things promised through God's Word, our words can't possibly compare!
Communion Practice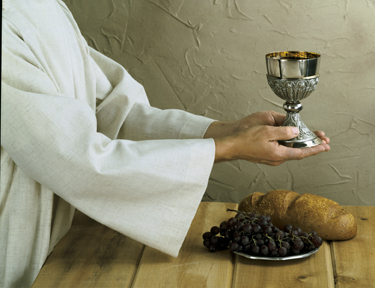 We celebrate the Sacrament of the Lord's Supper every Sunday. We believe that in the bread and wine, we also receive the body and blood of Jesus Christ, who is truly present in a mysterious way. In this we receive the gifts that God promised to deliver through it: forgiveness of sins and everlasting life. So why wouldn't you want to have that as often as possible?
We also adhere to the historic church practice of "closed communion." What this means is, even though we desire for all to commune at our altar, out of our deep respect for God's Word, we understand that unity in teaching/confession precedes unity at communion. If you are not a member of a congregation in the Lutheran Church-Missouri Synod, please speak to the Pastor before partaking in the Sacrament.